Nordicskiracer.com: Lots of snow; still well-below seasonal averages
Thu, Jan 24, 2013 – By Mike Muha
The Gaylord NOAA Office says,
Northern Michigan remains entrenched in a good old-fashioned cold air outbreak! It's actually exposing just how spoiled we've become…having grown accustom to the mild temperatures of late. We've now had 5 consecutive days with readings in the single digits or below. You have to go back to March 2011 (looking at records from the office location here) to find the last time that happened. And we'll get them again tonight…making 6 days in a row. Making this the best cold air outbreak since January of 2011…which tallied a 9 day stretch where readings went to single digits or below….including a reading of -12 that occurred on the 23rd.
The part that makes it unusual though is that we think it's unusual. After all…it's January in Northern Michigan, and these readings are more typical than the mild ones we've seen lately.
Seasonal "Snow Stats" to Date…
Snowfall Information 2013-01-24
Station
This Year
Normal To Date
Yearly Average
Record/Year
Alpena
16.8
43.3
80.4
166.3 (1970-71)
Houghton Lake
23.9
37.6
69.5
124.1 (1970-71)
Sault Ste Marie
78.4
74.0
116.6
222.0 (1995-96)
Gaylord (NWS)
59.7
86.0
144.3
185.6 (2006-07)
Traverse City/Munson
22.6
54.9
98.2
123.3 (2008-09)
Yearly average snowfall is from 1950-2011. Gaylord 9SSW data are from 1997 till present. Traverse City (Munson) data are from 2001 till present. NOTE: Only sparse snowfall data existed for Alpena, Houghton Lake and Sault Ste Marie between 1997 and 2004.
The Midwest has receive lots of snow in the last few days: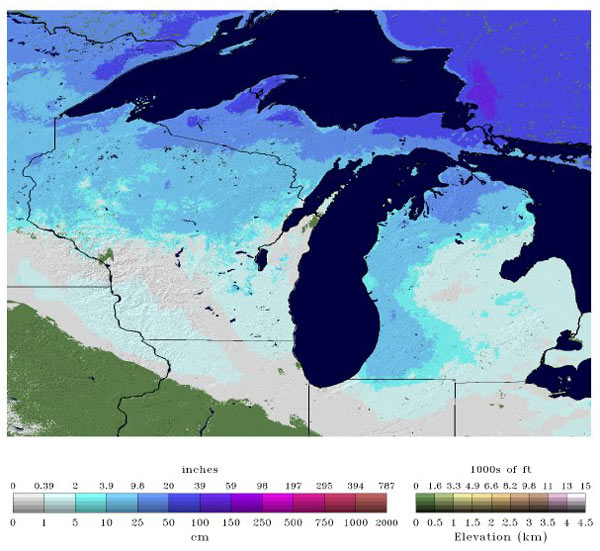 Looking at just the Lower Peninsula, the north got hammered, the west coast picked up 4-8 inches, and a narrow band of lake effect snow went west to Detroit, the northern edge of the snow line paralleling I-96: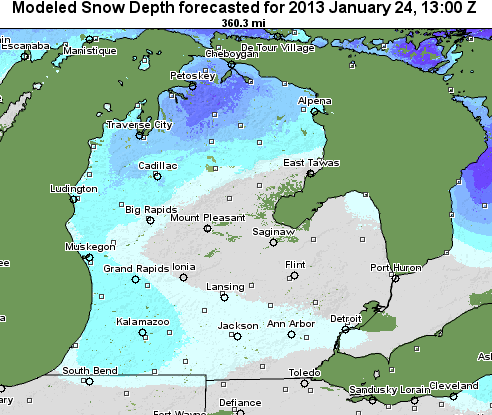 Up north, areas between Petoskey, Onaway, and Gaylord picked up 20-30 inches of snow: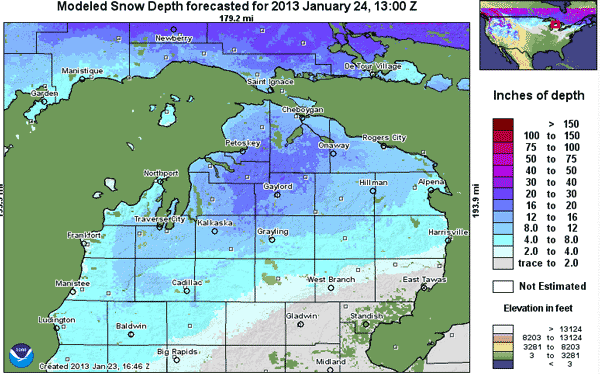 We're still well below seasonal norms in terms of snowfall. Let's hope we catch up fast!